Step-by-step guide to creating a new Voluum campaign:
Before creating a campaign, you will first add an affiliate network, traffic source, offer and lander (optional).


Then choose the button (visible in all report tabs) to open the new campaign configuration menu.


Campaign name prefixes comprise of two labels; traffic source and country. The auto update function alters the campaign name whenever you change either one of these labels.

For global or multi-geo campaigns leave the country selection blank.

When you select a specific country, it will only show landers and offers with the same country label.

Note: Country labelling and selection is solely for organisational purposes and doesn't apply as a condition to filter traffic by geo.


After you've set a unique campaign name, traffic source and country, you will then configure the cost tracking for your campaign (recommended).



Pick the according cost model relative to the traffic which you are buying / directing to the campaign.
Following the cost model parameters, you then have the option to choose the redirect mode for traffic.
302 mode is a standard redirect whereas the meta-refresh modes are used to mask referrer data sent to the offer page.
For the latter case; meta-refresh is applied with the intention of obscuring the owner of the offer (Affiliate network)  from viewing the original source of traffic and the landing page(s) which preceded the offer.



Next step is to choose your destination method and configure your campaign funnel.



There are currently three different options for the destination of a campaign:
Flow :
A predefined template of campaign paths.
Path :
Paths which are created specific to an individual campaign.
URL :
A single, direct URL that doesn't require a lander or offer to be created beforehand.
Once you've chosen the destination option, you will then have to add the individual paths (landers and offers*) for the campaign (non-applicable for a Direct URL). *New Landers and Offers can be added directly to the campaign from the campaign configuration or Flow menu by selecting 'New Lander' and 'New Offer'.
Here's a preview of a campaign created with 'Flow' set as the destination option: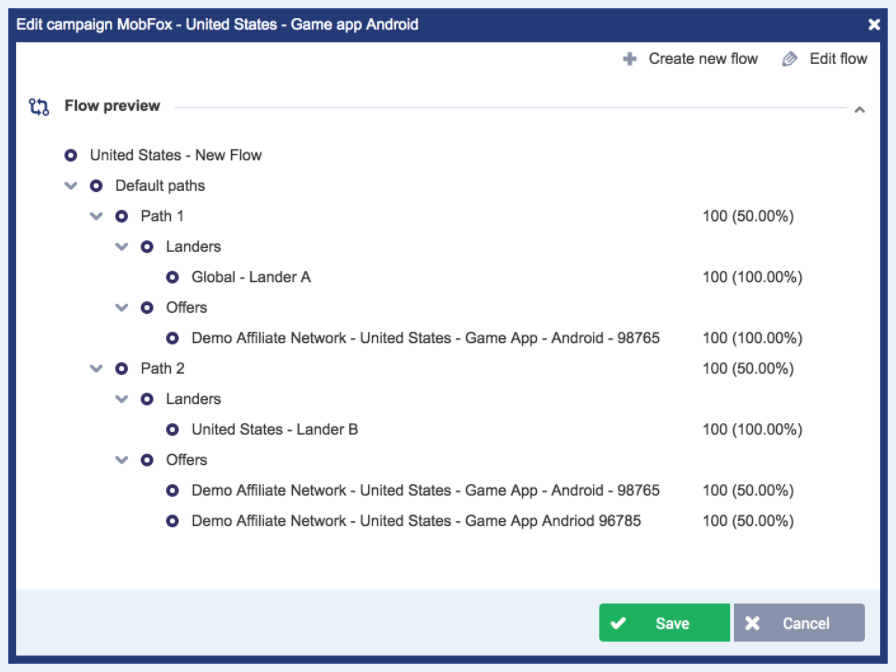 From this example above you can see that this campaign consists of two separate paths.
Within each path, you then have landers and offers.
Campaign overview:
Path 1: Containing 1 lander and 1 offer.
Path 2: Containing 1 lander and 2 offers.
To the right of each path you will see the assigned weight (percentage) value.
This value determines how traffic will be dynamically distributed among paths*.
*By default, when all paths are first created they are set with an equal weight (percentage) value to ensure that traffic is distributed evenly.
The weight (percentage) value can be changed at anytime to distribute traffic as required.
Once you've finished setting-up your campaign's destination paths you will then click on
This will create a new campaign within the campaigns list and also generate the campaign URL needed to direct traffic to.


It is then a matter of copying the new campaign URL (clipboard) and adding it as the destination URL for the campaign on the source's end.
Traffic will then be sent to the campaign once it passes approval by the source and you purchase the desired traffic.

---
Contact us